Water, society and urbanization in the 19th century Belgrade: Lessons for adaptation to the climate change
Dragana Ćorović

University of Belgrade, Faculty of Architecture, Belgrade, Serbia

Ljiljana Blagojević

University of Belgrade, Faculty of Architecture, Belgrade, Serbia
Keywords:
Belgrade; 19th century; urban history; waterscape; climate change
Abstract
This paper traces urban history of Belgrade in the 19th century by looking into its waterscape in the context of its transformation as the capital of the Princedom of Serbia. Aiming to underline the importance of water as a resource, with the view to contemporary environmental concerns, we explore how citizens historically related to waterscape in everyday life and created a specific socio-spatial water network through use of public baths on the river banks and public fountains, water features and devices in the city. The paper outlines the process of establishing the first modern public water supply system on the foundations of the city's historical Roman, Austrian and Ottoman waterworks. It also looks at the Topčider River as the most telling example of degradation of a culturally and historically significant urban watercourse from its natural, pastoral and civic past to its current polluted and hazardous state. Could the restitution of the Topčider River be considered as a legacy of sustainability for future generations, and are there lessons to be learned from the urban history which can point to methods of contemporary water management.
References
Anonim. (1856) Različite stvari, Srbske novine, 25 May, p. 423.
D. R. V. (1892) Svečano osvećenje vodovoda, Beogradske opštinske novine, Vol. 10, No. 28, 5 July, pp. 278-277, reprinted in Lujanović (ed.) Jedan vek, pp. 30-31.
Deroko, A. (1977) Beograd na susretu dva veka, in Beograd u sećanjima, 1900-1914. Beograd: Srpska književna zadruga, pp. 10-42.
Blagojević, Lj. (2007) Novi Beograd: osporeni modernizam. Beograd: Zavod za udžbenike, Arhitektonski fakultet Univerziteta u Beogradu, Zavod za zaštitu spomenika kulture.
Blagojević, Lj. (2009) Urban regularisation of Belgrade, 1867: Trace vs. Erasure, Serbian Architectural Journal, Vol. 1, No. 1, pp. 27-44.
Blagojević, Lj., Ćorović, D. (2011) Klimatske promene i estetika savremene arhitekture, in Đokić, V. and Lazović, Z. (eds.) Uticaj klimatskih promena na planiranje i projektovanje. Beograd: Univerzitet u Beogradu, Arhitektonski fakultet, pp. 19-33.
Borić, T. (2005) O istoriji i arhitekturi Terazijske fontane, Nasleđe, No. 6, pp. 227-236.
Brown, R. R., Keath, N., Wong, H. F. (2009) Urban water management in cities: historical, current and future regimes, Water Science & Technology, Vol. 59, No. 5, pp. 847-855.
Bunjac, V. (1993) Česme i fontane: 150 miliona godina Beograda. Beograd: Turistička štampa.
Ćorović, D. (2010) Three Parks in Nineteenth Century Belgrade, Serbian Studies: Journal of the North American Society for Serbian Studies, Vol. 24, No. 1-2, pp. 75-89. [published in 2012].
Dukić, T. (1970) Prikaz hidrogeološke karte područja Beograda, Urbanizam Beograda (UB), No. 6, pp. 11-13.
Djapa, D. (2006) Water Management in Urban Context: the Case of Belgrade, in Proceedings, The Implementation of the EU Water Framework Directive from International, National And Local Perspectives. Vienna: Vienna University of Technology, pp. 48-54.
Đorđević, A. (1966) Razvoj Beograda i aktuelni urbanistički problemi, Arhitektura, urbanizam, No. 41-42, pp. 4-11.
Đorđević, B., Dašić, T. (2011) Water Storage Reservoirs and Their Role in the Development, Utilization and Protection Of Catchment, SPATIUM International Review, No. 24, pp. 9-15.
Echols, S., Pennypacker, E. (2008) From Stormwater Management to Artful Rainwater Design, Landscape Journal, Vol. 27, No. 2, pp. 268-290.
Erve (Hervé), F. (1837) Carigradskim drumom i bačkom ravnicom, in Momčilović, B. ed. (1993), Britanski putnici o našim krajevima u XIX veku. Novi Sad: Matica srpska, pp. 40-60.
Josimović, E. (1987) Objasnenje predloga za regulisanje onoga dela varoši Beograda što leži u šancu sa jednim litografisanim planom u razmeri 1/3000 (1867). Reprint. Beograd: Juginus.
Jovanović, M. (1958) Snabdevanje Beograda vodom do izgradnje modernog vodovoda 1892. godine, Godišnjak grada Beograda (GGB), No. 5, pp. 241-248.
Jovanović, M., Marković, P., Perišić, M., Stojanović, D., Ristović, M. (eds.) (2003) Živeti u Beogradu, I, 1837-1841, Dokumenta Uprave grada Beograda. Beograd: Istorijski arhiv Beograda.
Kanalizacioni sistem grada, Beogradski vodovod i kanalizacija, http://ns.bvk.rs/o_kanalizaciji.htm, accessed 18th Mar 2012.
Lujanović, M. (ed.) (1992) Jedan vek Beogradskog vodovoda i kanalizacije: 1892- 1992. Beograd: JKP Beogradski vodovod i kanalizacija.
Maksimović, B. (1957) Projekti za Terazisku česmu od pre sto godina, Godišnjak Muzeja grada Beograda (GMGB), No. 4, pp. 238-242.
Milanović, H. (2006) Zelenilo Beograda. Beograd: JKP Zelenilo Beograda.
Milanović, H. (ed.) (2008) Zaštićena prirodna dobra Beograda. Beograd: Zavod za zaštitu prirode Srbije.
Milovanović, B. (1957) Geološka istorija beogradskog tla, GMGB, No. 4, pp. 9-34.
Miljanić, M. (1985) Topčider i Beograd u poslednja dva veka, Arhitektura, urbanizam, No. 96, pp. 47-49.
Mitrović, K. (2008) Topčider – dvor kneza Miloša Obrenovića. Beograd: Istorijski muzej Srbije.
Nikić, Lj. (1980) Jedan nepoznati plan Topčidera, UB, Vol. 12, No. 57, pp. 80-82.
Paton, A. A. (1845) Servia, the youngest member of the European family. London: Longman, Brown, Green, and Longmans.
Ristić, R., Radić, B., Nikić, Z., Trivan, G., Vasiljević, N., Dragićević, S., Živković, N., Radosavljević, N. (2011) Erosion Control and Protection From Torrential Floods In Serbia – Spatial Aspects, SPATIUM International Review, No. 25, pp. 1-6.
Stanojević, V. (1966) Zdravstvena zaštita i komunalne službe u starom Beogradu, GGB, No. 13, pp. 139-151.
Timotijević, M. (2004) Memorijal oslobodiocima Beograda 1806, Nasleđe, No. 5, pp. 9-34.
Todorović, S. (2009) Sport u starom Beogradu (XIX vek). Beograd: Zepter Book World D.O.O.
Vanušić, D. (2008) Podizanje spomenika pobede na Terazijama, Nasleđe, No. 9, pp. 193-210.
Viquesnel, A. (1842) Journal d'un voyage dans la Turquie d'Europe. Paris: Langlois et Leclercq.
Vladisavljević, S. (1989) O počecima uređivanja Topčidera za izletničku i park šumu, GGB, No. 36, pp. 105-122.
Zavod za zaštitu spomenika kulture grada Beograda (n. dat.) Uslovi čuvanja, održavanja i korišćenja kulturnih dobara i dobara koja uživaju prethodnu zaštitu za potrebe izrade programa za urbanistički plan područja Prostorne kulturno-istorijske celine Topčider.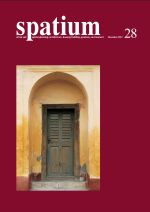 Section
Review Paper - Second Part