Cultural and historical heritage: An asset for city branding
Siniša Cvijić

Environment Protection and Energy Efficiency Fund of Republika Srpska, Banja Luka, Bosnia and Herzegovina

Jasna Guzijan

New Institute for Urbanism of Republika Srpska, Banja Luka, Herzegovina
Keywords:
identity; brand image; city branding; Trebinje; asset; genius loci; cultural and historical heritage
Abstract
Achieving wider recognition is part of the development agenda of contemporary cities, which are all confronted with the need to stand out and compete against one another. City branding reads as and plays an important role in this struggle for recognition. The identity of a city is generated over a long period, as it undergoes historical change, resulting in cultural diversity as the product of a specific environment. This paper discusses the possibility of using the cultural and historical heritage of Trebinje and its identity as an asset to create its city brand. Trebinje is a small city situated in the vicinity of Dubrovnik, a major tourist destination with a rich cultural and historical heritage and an excellent city brand. Dubrovnik may be seen as jeopardising the development of Trebinje's authentic identity; on the other hand, the strong historical ties between the two cities can actually be used as an asset to develop Trebinje's city brand. The material and non-material heritage which helped the formation of Trebinje's identity, is analysed. The Mediterranean region in which it is located, its rich history, authentic architecture and different cultural influences, including the national poet Jovan Dučić, have all helped create Trebinje's genius loci. The same factors may be used to communicate its new image. After that, the paper outlines models of the possible use of the recognised assets to brand the city and emphasise the importance of the effective presentation of these assets for creating a recognisable city image. It also proposes specific actions and interventions that may contribute to branding the city.
References
Baker, B. (2012) Destination Branding for Small Cities, Portland (Oregon, USA): Creative Leap Books.
Dinnie, K. (2011) City Branding: Theory and Cases. NewYork: Palgrave McMillan.
Glas Srpske, http://www.glassrpske.com/drustvo/panorama/Hiljade-cvjetova-za-blagoslov-ljubavi/lat/51239.html/, accessed 8th March, 2013.
Guzijan J. (2010) Urbana obnova gradova do 30 000 u BiH-Primer Trebinja, Banja Luka, master thesis (unpublished).
Guzijan, J., Cvijić, S. (2009) Kulturno-istorijsko nasleđe kao potencijal razvoja turizma na primeru gradova Trebinja i Jajca. Arhitektura i urbanizam, No. 27, pp. 57-61.
Guzijan J., Cvijić S. (2010) Principles of Restoratiration of Cultural-Historical Centres of Bosnia and Herzegovina Cities. 5th Regional Conference on Integrative Protection, Conference proceedings, Banja Luka, Republički zavod za zaštitu kulturno-istorijskog i prirodnog nasljeđa Republike Srpske, pp. 73-83.
Kulturne Manifestacije, http://trebinjeturizam.com/desavanja/kulturne_manifestacije.php/, accessed 9th February, 2013.
Manić, Ž., Backović V. (2010) Arhitektura moderne u funkciji promocije Beograda, Arhitektura i urbanizam, No. 30, pp. 46-51.
Miovčić, Z., Prohaska, J., Pavlica, M., Draganić, A., Krajišnik, M., Pucar, S., Janković, G.,. Šipragić, M., (2009) Strategija razvoja opštine Trebinje 2009-2017. godine, Banja Luka, (unpublished).
Stupar, A. (2009) Urbs et Orbis: (re)Charting the Center, (re)Positioning the Limits. SPATIUM International Review, No. 20, pp. 53-59.
Trebinje-grad kulture, http://www.trebinje.rs.ba/?subpg=grad_kulture/, accessed 9th February, 2013.
Turistička organizacija opštine Trebinje, http://trebinjeturizam.com/desavanja/kulturne_manifestacije.php/, accessed 9 February, 2013.
Šimunović, I. (2007) Urbana ekonomika. Zagreb: Školska knjiga.
Volić I., Bajić, L., Radenković-Šošić, B. (2012) Belgrade as European Capital of Culture- Conceptual Conjunction, SPATIUM International Review, No. 27, pp. 26-30.
Wikipedia, The Free Encyclopedia, http://en.wikipedia.org/wiki/Srdjan_Aleksic/, accessed 5th Mar 2013.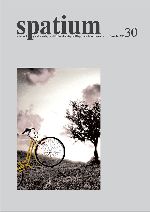 Section
Original Scientific Paper - Second Part