Rehabilitation of urban identity of cities in the Banja Luka region through urban form regulation
Dijana Simonović

University of Banja Luka, Faculty of Architecture, Civil Engineering and Geodesy, Banja Luka, Republic of Srpska, Bosnia and Herzegovina
Keywords:
urban form; identity; renewal; regulation; principles
Abstract
This paper points to the possibility of codification of urban planning and application of physical regulation standards in urban form design to establish such instruments of guidance as will ensure the recognition, appreciation and development of local urban identity. The purpose of establishing general principles and making quality recommendations that would aim at urban form design regulation and be implemented as qualitative criteria and regulation standards is to propose a methodology for the rehabilitation of the City of Banja Luka's identity applicable to similar cities in the region, with due adjustments to allow for contextual specificity, with the possibility of coordinated regional city development. The discontinuity in the urban development of Banja Luka and other cities in the region has jeopardised the inherent characteristics of their identities, resulting in reduced recognisability and impaired integrity. This study covers the period since the beginning of Banja Luka's guided urban development (Austro-Hungarian administration, 1878), which should allow a review of its urban morphogenesis and an understanding of its key elements, as well as identification of the general principles and rules of urban form regulation as laid down in the local ordinance and planning legacy.
References
Ben-Joseph, E. (2005) The Code of the City: Standards and Hidden Language of Place Making; Cambridge, Massachusetts: The MIT Press.
Dimitrovska-Andrews, K. (1994) Oblikovalska merila pri urejanju mest in drugih naselij, Urbani izziv 26,27; Ljubljana: Urbanistični inštitut Slovenije, pp. 7-23.
Dobrović, N. (1998) Šta je gradski pejzaž? Njegova uloga i prednost u suvremenom urbanizmu. In: Perović, M. i Krunić, S. (eds.) Nikola Dobrović: Eseji, projekti, kritike. Beograd: Arhitektonski fakultet Univerziteta u Beogradu, pp. 52-53.
Krstić, B., Pajović, D. (1987) Zakonodavstvo urbanizma, arhitekture, baštine, prostornog uređenja, čovjekove sredine, Beograd: Naučna knjiga.
Majstorović, S. (1979) U traganju za identitetom, Beograd: Slovo ljubve – Prosveta.
Обрадовић, Ј. И. (1931) Грађевински закон са објашњењима и упутствима за рад општинских и управних власти, инжењера, архитеката, геометара, грађевинара- градитеља и власника земљишта и зграда, Београд: Министарство грађевина краљевине Југославије.
Симоновић, Д. (2010) Пејзажни градови: поређење развоја урбаног идентитета Бањалуке и Граца, Бањалука: Архитектонско-грађевински факултет Универзитета у Бањалуци.
Simonović, D., Novaković, N., Vujičić, T. (2011) Towards a strategy of regeneration of urban landscape: Brownfields as a strategic resource. In: Proceedings of I International Conference Ecology of urban areas. Zrenjanin: Faculty of technical sciences "Mihajlo Pupin", pp. 439-449.
Симоновић, Д. (2011) Урбани ред: мит или реалност? In: "Архитектура и урбанизам, грађевинарство, геодезија - јуче, данас, сутра", Conference Proceedings, Бањалука: Архитектонско-грађевински факултет Универзитета у Бањалуци, pp. 309-320.
Stupar, A., Đukić, A. (2007) Patchwork or Matrix? Testing the Capacity of the Contemporary City. SPATIUM International review, No. 15-16, Belgrade: Institute of Architecture and Urban & Spatial Planning of Serbia, pp. 1-9.
Vitruvius Pollio, M. (1990) Deset knjiga o arhitekturi; Sarajevo: Svjetlost.
Zite, K. (1967) Umetničko oblikovanje gradova; Beograd: Građevinska knjiga.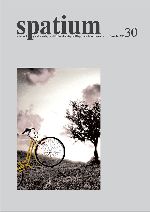 Section
Review Paper - Second Part