Redesigning the network of pedestrian spaces in the function of reduction of CO2 emission: Case study: Pančevo and Vršac
Aleksandra Đukić

University of Belgrade, Faculty of Architecture, Belgrade, Serbia

Milena Vukmirović

University of Belgrade, Faculty of Architecture, Belgrade, Serbia
Keywords:
network of pedestrian spaces; Pedestrian movement; sustainable transport; central area; Serbia; Pančevo; Vršac
Abstract
Research problem. The research problem is the increase of GHG and CO2 emissions in the transport sector, i.e. the intensification of urban transport activity in Serbia during the last 15 years. Focusing on redesigning of pedestrian networks as well as understanding the connections between urban design and pedestrian movement, the walkable environment could be achieved. In addition, as a direct result, a contribution would be made to a decrease of GHG and CO2 emission. Methodology. The following methods were used: analysis of the readability of open spaces, analysis of contents, rhythm and transparency on the ground floor of buildings and analysis of the intensity of use of open spaces using the Space Syntax method. Results. The results show a proportional relation between characteristics on ground floors of buildings and the intensity of pedestrian movement. Also, they enable the establishing of general recommendations for designing the immediate pedestrian environment and upgrading the quality of open public spaces. Conclusion. The improvement of the quality of pedestrian environment would have as its direct consequence greater use of open public spaces, and thus also increased intensity of pedestrian movement. In this manner, people would face a better quality and broader selection of contents and spaces.
References
Alexander, C., Ishikawa, S. and Silverstein, M. (1977) A Pattern Language: Towns, Buildings, Construction, New York: Oxford University Press.
Brand Zook, J., Lu, Y., Glanz, K. and Zimring, C. (2011) Design and Pedestrianism in a Smart Growth Development, Environment and Behavior, vol. XX, no. X, pp. 1-19.
Brilon, W. & Grosmann, M., (1993) Methods for the calculation of the capacity and quality of traffic flow in streets. Straßenbau und Straßenverkehrstechnik, No. 669.
Crawford, J.H. (2002) Carfree Cities, Utrecht: International Books.
De Certau, M., (1949) The Practise of Everyday Life. Berkeley: University of California Press.
Dittmar, H. and Ohland, G. (ed.) (2004) The New Transit Town: Best Practices in Transit- Oriented Development, Washington: Island Press.
Direkcija za izgradnju i uređenje Pančeva (2011) Generalni urbanistički plan Pančeva_knjiga 1, Pančevo.
Đukić, A., Vukmirović, M., (2011) Walking as a Climate Friendly Transportation Mode in Urban Environment Case Study: Belgrade. International Journal for Traffic and Transport Engineering, Vol. 1 No. 4.
European Conference On Sustainable Cities & Towns_Aalborg, (1994) Charter of European Cities & Towns Towards Sustainability, http://ec.europa.eu/environment/urban/pdf/aalborg_charter.pdf, accessed 18 December 2011.
Fyfe, N., ed., (1998) Images of the Streets. London: Routledge.
Fruin, J.J., (1971) Designing for pedestrians: a level-of-service concept. Highway Research Record, No. 355, pp.1-15.
Galderisi A., & Ceudech A., (2010) Soft Mobility and Pedestrian Networks in Urban Areas. TeMaLab journal of Mobility, Land Use and Environment, Vol. 3, pp.21-28.
Gehl, J., (2004) Close encounters with buildings. Arkitekten, No. 9.
International Transport Forum/OECD, (2009) The Cost and Efficiency of Reducing Transport GHG Emissions. Preliminary Findings. OECD.
International Transport Forum, (2007) Cutting transport CO2 emissions. What progress?. OECD.
International Transport Forum, (2009) Key Transport and Greenhouse Gas Indicators. Country profile: Serbia. Country profile. OECD.
Hegemann, W., Peets, E. & Plattus, A.J., (1996) The American Vitruvius: an architects handbook of civic art. New York: Princetone Architectural Press.
Helbing, D., (1998) Pedestrian dynamics and trail formation. In S. Alleveiro, D. Andrey & P. Giordano, eds. The Dynamic of Complex Urban Systems. New York: Springer Company. pp 13- 26.
Hillier, B. & Hansen, J., (1989) The Social Logic of Space. Cambridge: Cambridge University Press.
Institut za puteve (2004) Saobraćajna studija centralne zone Pančeva za potrebe Generalnog plana, Beograd
Kawakubo, S., Ikaga, T. and Murakami, S. (2010) 'Estimating of CO2 Reduction Potential in Small Cities in the Context of the Changing Social Situation in Japan', International Conference on Sustainable Building Asia_SB10 Seoul, Seoul, 141-146.
Kirsch, H., (1964) Capacity and dimensioning of pedestrian footways. Straßenbau und Straßenverkehrstechnik, (33).
Krstić-Furundžić, A. and Đukić, A. (2009) Serbia, in: Jones, P., Pinho, P., Patterson, J. and Tweed, C. (eds.) Low carbon Urban Environment: European Carbon Atlas, Cardiff: The Welsh Scholl of Architecture.
Lazarević Bajec, N., (2011) Integrating climate change adaptation policies in spatial development planning in Serbia: A challenging task ahead. SPATIUM International Review, No. 24, pp.1-8.
Lynch, K., (1981) Good City Form. Massachusetts: The MIT Press.
Pedestrian Safety, Urban Space and Health, (2011) International Transport Forum. http://www.internationaltransportforum.org/Pub/pdf/11PedestrianSum.pdf, accessed 29 November 2011.
PLB Netherlands Evironmental Assessment Agency (2010) Annual Greenhouse Gas Emissions by Sector , http://themasites.pbl.nl/en/themasites/edgar/emission_data/edgar_32ft2000/index.html Accessed 08 September 2011.
Polus, A. & Schofer, J.L., (1983) Pedestrian flow and level of service. Journal of Transportation Engineering, No. 109, pp.46-56.
Pušić, Lj. (1987) Urbanistički razvoj gradova u Vojvodini, Novi Sad: Matica Srpska.
Schubert, H., (1967) Planning measures for pedestrian traffic in cities. Straßenbau und Straßenverkehrstechnik, No. 56.
Stupar, A. & Đukić, A., (2007) Patchwork or matrix?: Testing the capacity of the contemporary city. SPATIUM International Review, No. 15-16, pp.1-9.
Tiwari, R., Cervero, R. and Schipper, L. (2011) Driving CO2 reduction by Integrating Transport and Urban Design strategie, Cities, vol. 28, no. 5, pp. 394-405.
U.S_Environmental Protection Agency (2012) 2012 Draft U.S. Greenhouse Gas Inventory Report, http://www.epa.gov/climatechange/emissions/downloads12/Executive%20Summary.pdf, accessed 15 March 2012.
van Staden, M. (2011) LG Action – Final Report: Results and highlights of the 'Networking action to involve Local Governments in the EU and international energy and climate debate' project, Freiburg: ICLEI Europe.
Walk21, (2011) Poster presentation: International Charter of Walking. http://www.internationaltransportforum.org/2201/pdf/Thornton.pdf, accessed 29 November 2011.
Weidmann, U., (1993) Transportation technique for pedestrians. Schriftenreihe des Instituts fur Verkehrsplanung, Transprttechnik, Strasen und Eisenbahnbau.
Whyte, W.H., (1988) City: Rediscovering the Center. New York: Doubleday.
Zakon o teritorijalnoj organizaciji Republike Srbije', Službeni glasnik RS, no. 129/07.
Zavod za urbanizam Vojvodine (2007) Generalni plan Vršca, Novi Sad.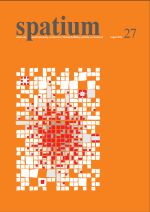 Section
Professional Paper