City vs. climate changes: The future and its (un)sustainability: The global applicability of Sarriguren and Jätkäsaari? Stupar Aleksandra ORCID, Nikezić Zoran
Aleksandra Stupar

University of Belgrade, Faculty of Architecture, Belgrade, Serbia

Zoran Nikezić

University of Belgrade, Faculty of Architecture, Belgrade, Serbia
Keywords:
climate change, cities, carbon emission, energy efficiency, sustainability
Abstract
The global reality, intensively exposed to the challenges caused by climate changes, demands new ideas, methods and tools which could eventually prevent or mitigate the consequences of carbon emissions. Therefore, the contemporary cities, as focal points of the new global comprehension, have become testing grounds for numerous initiatives based upon imperatives of sustainability, environmental consciousness, energy efficiency and 'green' life style. In Serbia, experience in matters of the built environment has had a tendency to be formed exclusively on the basis of authentic local initiatives, aspirations, successes and failures. In the global effort for sustainable development, considering the commitments imposed by climate change and carbon emission, a greater reliance on results achieved elsewhere would be a welcome change. Consequently, this article will present and comment two eco-driven projects - Sarriguren and Jätkäsaari, both covering a wide range of useful ideas, intriguing concepts and globally applicable solutions for the challenges caused by climate shifts.
References
Ah asociados architecture office (2011) 50 Residantial Properties in Sarriguren, http://www.archello.com/en/project/50-residential-properties-sarriguren, accessed 1s Oct 2011.
ARUP (2009) C_life: City as Living Factory of Ecology, http://www.low2no.org/now/wp-content/uploads/2010/01/Low2No%20Manual%20Arup.pdf, accessed 25th June 2011.
Bechthold, M., Anthony, K. (2010) Low2No: Stra- tegies for Carbon Neutrality. Case Study on the Low2No Competition Helsinki, Finland, Helsinki: SITRA, Harvard University, Graduate School of Design (http://temp.low2no.org/peoplepods/themes/low2no/downloads/Low2No_Competition_Case.pdf), accessed 1st Oct 2011.
Callenbach, E. (1975) Ecotopia, Berkeley, CA: Banyan Tree Books
Calthorp, P. (1993) The Next American Metropolis- Ecology, Community, and the American Dream, NY: Princeton Architectural Press
Cappelo, R., Nijkamp, P. and Pepping G. (1999) Sustainable Cities and Energy Policies, Berlin, Heidelberg, New York: Springer-Verlag
Downton, P. F. (2009) Ecopolis, Dordrecht: Springer
Lazarević-Bajec, N. (2011) Integrating climate change adaptation policies in spatial development planning in Serbia- A challenging task ahead, SPATIUM International Review, No. 24, pp. 1-8
Low2no: Competition Overview, http://www.low2no.org/pages/competition, accessed 1st Oct 2011.
Register, R. (1987) Ecocity Berkeley: Building Cities for a Healthier Future, Berkeley: North Atlantic Books
Sitra selected the Low2No competition participants (2009), http://www.sitra.fi/en/News/low2noparticipantsselected.htm, accessed 1st Oct 2011.
Strategija regionalnog razvoja Republike Srbije za period od 2007. do 2012. godine (2005), Sl. Glasnik RS 55/05, 71/05
Stren, R., White R., Whitney J. (Eds.) (1992) Sustainable Cities: Urbanization and the Environ- ment in International Perspective, Boulder: Westview Press
This is SITRA, http://www.sitra.fi/en/, accessed 1st Oct 2011.
Town Planning Institute of Belgrade (2003) Master plan of Belgrade 2021, Belgrade: Službeni list grada Beograda, No. 27/03
Town Planning Institute of Belgrade (2006), INFO, No. 16/06
Town Planning Institute of Belgrade (2006) The Revision of the Master plan of Belgrade 2012, phase 2, Belgrade: Službeni list grada Beograda, No. 63/09
UN-Habitat (2009) UN-Habitat Climate Change Strategy 2010-2013, Nairobi: UN-Habitat, Urban Environmental Planning Branch
Vegara, A. (2009) Sarriguren Ecociudad, Pamplona: Gobierno de Navarra
Vegara, A., Ryser, J., Dwyer, M., Kelley, A. (2009) Ecocity Sarriguren in Gossop Chriss, Brandao Alves F., ISOCARP Rewiev 05 'Low Carbon Cities', Porto: ISOCARP, pp. 176-196
Vujošević, M. (2010) Collapse of strategic thinking, research and governance in Serbia and possible role of the spatial plan of the Republic of Serbia (2010) in its renewal, SPATIUM International Review, No. 23, pp. 22-29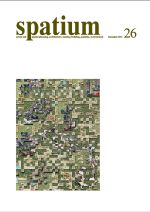 Section
Professional Paper