Contemporary variant of a traditional Macedonian bondruck house
Gjorgji Dimkov

Faculty of Architecture, University "Ss Cyril and Methodius", Skopje, Republic of North Macedonia
Keywords:
contemporary, variant, traditional, Macedonian, bondruck house
Abstract
The traditional bondruck system for constructing single-family homes, which is one of the most important segments of Macedonian material culture and heritage, can create a path for developing and improving contemporary design and construction solutions for sustainable architecture in Macedonia. Тhe classic variant of traditional bondruck has not been of a high enough standard over a long period of use, which was also the case even at the time when it was a popular building method. Some disadvantages of its classic variants such as: the lack of quality materials for external and internal processing, inconsistent stability due to technological defects in the wood, a low standard and level of physical performance, functional deficiencies etc., can be overcome with modern technological solutions, the use of new building materials, and the possibility of systematic planning in a market economy, combined with the realization that a higher standard of housing is needed today. Based on an analysis of traditional Macedonian bondruck, it is possible to make a contemporary version of this system with improved quality of performance, both of individual elements and of the whole system. This is demonstrated by the proposed solution of a reference house in the village of Bitushe, built with the traditional bondruck system.
References
Brezoski, S. (1993). Rekanska kuḱa (in Macedonian). Skopje: Bigoss.
Grabrian, D. (1986). Makedonska kuḱa - ili preod od stara orientalska vo sovremena evropska kuḱa (in Macedonian). Skopje: Misla.
Namičev, P., Namičeva, E. (2014). Traditional city house in Northeastern Macedonia. Skopje: Petar Namičev.
Nikoloska, M. (2003). Gradskite kuḱi od 19 vek vo Makedonija (prostorna organizacija) (in Macedonian). Skopje: Republički zavod za zaštita na spomenicite na kulturata
Stojkov, T. (2006). Practicum III – bondručni i lesno-montažni (BOLMO) sistemi, zbirka na rabotni crteži, detali i proekti, pp. 53 (in Macedonian).
Tomic, Lj., Pljakoski, D., Filipovski, Lj., Boskovski, V., Stoilova, M. (1983). Erker i ograda vo arhitekturata (in Macedonian). Skopje: Naša kniga.
Tomovski, K. (1959-61). Za konstrukciite vo narodnata arhitektura vo Makedonija (in Macedonian), Zbornik na Tehničkiot fakultet – oddelen otpečatok. Skopje: Univerzitet vo Skopje, pp. 14.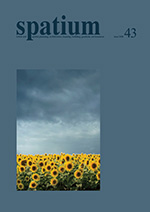 Section
Preliminary report - Short Communications